Tattoos are a very effective way to express your feelings, individuality, personality, and more. This is since not everyone likes tattoos, but those of my friends who enjoy getting inked can appreciate the emotional connection that comes with getting inked. It takes a lot of commitment to get a tattoo because it will be permanently inked on your skin.
We are aware that certain of our relationships are similar to a tattoo in that no matter what stage of life we are in, certain people will remain by our side through all of our highs and lows. It might be a friend, a partner, or someone you love. Therefore, getting a tattoo that is similar to or identical to that of an important someone in your life is fashionable these days. This sounds fascinating, right? So if you know someone like this and dare to try it yourself, you have come to the perfect place. 
We're going to show you some incredible and unique tattoos for couples and pals today that will wow you. 
Our Tattoo enthusiasts, are you ready? Let's go then. 
Royal Crown Tattoo
If you and your lover rule your own fantasy kingdom and empire, this might be a good choice for you. You can choose between a big and a minimalistic version. Crown tattoos are a representation of accountability and dependability. Make your crowns unique and be ready to rule the world!
Lovers Special Heart Tattoo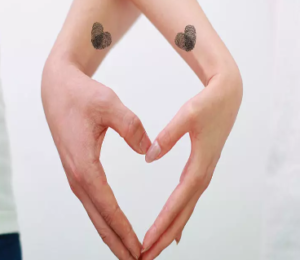 The ideal sign for expressing love is a heart. The heart represents love, passion, affection for one another, and faith in the power of love. If you and your partner have sincere love and care for one another, you should bookmark this.

Remarkable Date Tattoo
For every couple, even though it is a very memorable day, the wedding date is not the most essential one. Your most significant moment can be anything, such as the day you get engaged, the day you first met, the moment you realise you love them, etc. So, if you had a good day and want to inscribe that date on your body as an everlasting remembrance, you should do that. You may be eager to show your lover this, we know that!
Lovely Gay Couple Tattoos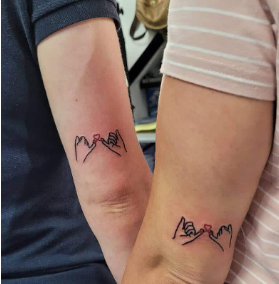 Gay couple tattoos can serve as a lasting visual reminder to always be proud of who you are, in addition to serving as a symbol of your love for your partner. It is possible to do it in black, a single colour, or a rainbow of colours. If you want a modest tattoo that will complement both of your tattoo designs, this is a perfect option for couples. So when are you going to get this bold and stunning tattoo like you?
Great Infinity Tattoo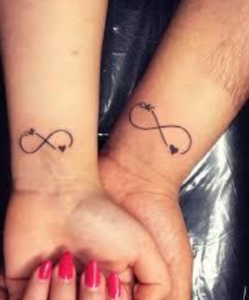 Infinity is a circle that never ends and has no beginning or end. Because of this, it's a popular approach for couples to express their enduring love for one another. The infinity symbol is a fantastic unisex design in addition to being an emotive and meaningful tattoo. Every sort of relationship can use it because it is neither too masculine nor too feminine. What do you think of this gorgeous tattoo, then?
Powerful Angel Wings Tattoo
One of the most exquisite and significant tattoo designs is the angel wings. Angel wing tattoos stand for security, liberation, and hope. It is a symbol of a strong relationship and a vow to watch out for and defend one another. So, are you and your bestie ready to protect each other like angels?
Strong Quote tattoos
For many years, we have chosen quotes as tattoo designs. They ensure we never forget our emotions by elegantly summarising them. Quotes are a meaningful pick for body art, whether they are lines from a play, movie, book, or song lyric. Best friends may decide to get matching tattoos, or they may decide to get the first half of the quote inked on one person and the second half on the other. So have you chosen a quote for your friendship tattoo?
Beautiful butterfly tattoos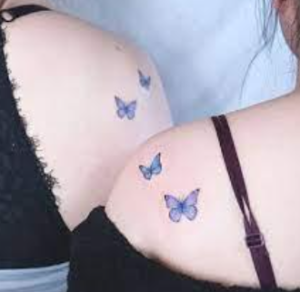 In addition to being a representation of change, butterflies back tattoos for women represent freedom and the universe. Best friends who identify with these concepts may therefore think about having matching butterfly tattoos. In the Christian religion, butterflies stand for rebirth. If you and your best friend have supported one another during difficult times, getting matching tattoos with this symbol may be an intelligent choice for you. So have you decided on your butterfly design already?
Lucky number tattoo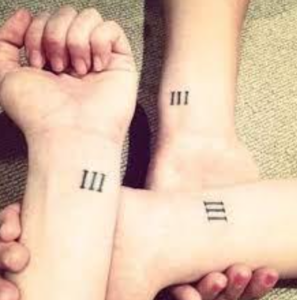 If you and your best buddy share a number that holds a lot of significance for both of you, getting that number tattooed can be a fantastic option for you. You'll never stop being reminded of your unique link thanks to that unique number. So, does this fit you well?
Cute smiley tattoo

Are you one of those cute, joyful, and energetic best friends seeking a lovely and special friendship tattoo? If so, we have you covered with this super-cute smiley that will brighten your day every day. Particularly on fingers, it looks stunning. So this is fascinating, best pals?
We hope you find some amazing ideas for your relationship tattoos. Thank you for being with us. See you in the next Blog!
Read more articles for sqm-club